Carpinteria, California. Recently, a Granite Construction project manager posted on LinkedIn about "replacing 60" HDPE that was burned by an Arsonist with 60" RG RCP. Existing pipe was 17' deep next to Hwy 101 in Carpinteria, CA. Challenging excavation since we were digging next the existing trench line. My Granite Construction team work long hard hours to get this roadway section back open for public travel."
Granite Construction's photos show the challenging installation of new RCP to replace the damaged pipe, including a skewed angle pipe in a very narrow trench. Click the photos below to enlarge (Credit: Randy Wagner, Granite Construction via LinkedIn).
Intrigued, the Florida Concrete Pipe Association investigated further. What we discovered is shocking in terms of the potential risk to life and infrastructure, but it is also part of a growing list of incidences involved fire damage to underground infrastructure, whether from natural or human causes. In this case, the cause was arson.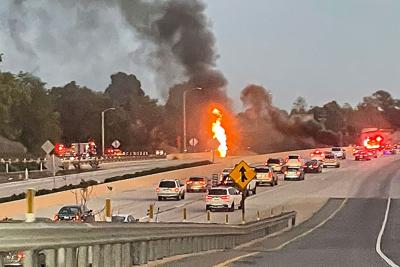 The initial arson damage occurred on February 20, 2022 when Carpinteria-Summerland firefighters eye-witnessed smoke and then, upon responding, discovered flames coming from manholes and another opening beneath a bridge along Highway 101.
The storm drain where the fire occurred is lined with a thick plastic material which caused the fire to continue burning with intensity for several hours. Firefighters were able to gain control and extinguish the flames by pumping large quantities of water into the storm drain.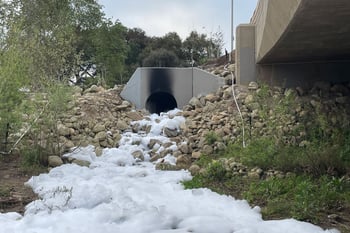 According to Newzhawk.com, a 24-year-old man has been arrested on suspicion of arson in connection with a fire that caused a major shutdown of Highway 101 in Carpinteria. Investigators believe the culvert was the origin point for a fire in the drainage system that closed the freeway and adjacent Via Real.
In this instance, the underground infrastructure that burned was a thermoplastic. According to Granite Construction, it was HDPE.
ACPA Webinar: Fire Resilient Infrastructure (May 26)
If this story captured your interest, then please consider registering for the American Concrete Pipe Association webinar on May 26 titled Fire Resilient Infrastructure. You'll learn more about the risks and management of fire regarding underground infrastructure and earn 1 Continuing Education Hour. To register, please CLICK HERE.